Discrimination against females in science continues.
An in-house probe at UCLA concluded in 2015 that women face "demeaning" treatment at the Medical School, however,

the person responsible, John Mazziotta, was promoted in March to vice-chancellor!!!
See article below showing UCLA Medical School refused to address problems even when a female instructor won a $2.95 million discrimination case in 2004. UCLA didn't mince words at the time:
"The university respectfully disagrees with the verdict, and we do not believe it was supported by the evidence," said James E. Holst, UC's general counsel.
Stories of sexism in science: 'sorry about all the women in this laboratory'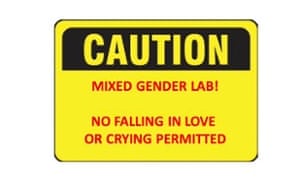 'There should be a rule against women having children in science'
"Following the recent comments made by Tim Hunt, I spent a little time reminiscing about my experiences as a postdoctoral researcher at a London University. I started this position full of enthusiasm but it ended quite swiftly following comments from my principal investigator (PI), such as:
'There really should be a rule against women having children in science.'
'I'm not going to teach you how to do it because you're probably going to leave for marriage and children anyway so why waste my time?'
'Sorry about all the women in this laboratory, but at least they're good to look at.'
...


Women faculty at UCLA's Alzheimer's disease research center faced "a climate of conflict, tension, hostility and mistrust" for about a decade and were treated in an "unprofessional, demeaning manner," an investigation at the campus medical school has found.
The probe upheld long-pressed complaints from three women faculty that they were discriminated against by some men in the department and faced retaliation for reporting breaches in research protocol, Jonathan Hiatt, the vice dean for faculty, said in a letter sent to staff.
The result was a significantly negative effect on the center and a working environment that "compromises our research, teaching and patient care," Hiatt wrote.
The March letter, which was obtained by The Times, did not identify the women who say they were discriminated against nor the people who they say violated campus rules. Hiatt could not be reached for comment Friday night.
Dale Tate, a spokeswoman for the David Geffen School of Medicine, confirmed the authenticity of the letter but said she could not offer any more details about the situation.
"While we cannot comment beyond the contents of the letter since it involves confidential personnel matters, leadership within the university and the health system is committed to a work environment that is welcoming and free from discrimination of any kind. The letter was intended as an internal communication to describe the measures taken by the university in response to serious concerns brought forward in good faith by female members of the faculty," she said in a statement.
In the letter, Hiatt wrote that he brought in an external investigator to look into the complaints, interview current and former faculty and review documents. The resulting report was finished in October and declared that the women faculty "had correctly identified and documented the unprofessional behavior to which they had been subjected" and had brought their complaints to the attention of administrators numerous times without a proper response, he said.
Hiatt said he has made some changes in the department of neurology in response to the complaints. Without saying that anyone had been directly disciplined, he noted that the department of neurology has a new interim chair, professor Marie-Francoise Chesselet, and that another professor has been appointed as a monitor for issues of gender and equity. He said he is committed to a fair and "welcoming" school workplace.
The former neurology chairman, John Mazziotta, was promoted in March to vice chancellor of UCLA's health sciences and dean of the medical school. Hiatt's letter did not mention him and did not say what role Mazziotta may have had in previous handling of the women's complaints.
The Alzheimer's research center has about 10 professors working there, according to its website, and is devoted to improving the quality of life for patients and caregivers, to develop new medications, treatments and improved and earlier diagnoses.
A former clinical instructor at the UCLA School of Medicine has won a $2.95-million judgment against the University of California from a Superior Court jury in a sex discrimination and retaliation case.
The jury, in Los Angeles County Superior Court, found that UCLA had discriminated against Janet Conney in her efforts to obtain a tenure-track position at the university, then retaliated against her when she complained.
Conney, 40, had worked at UCLA's Neuropsychiatric Institute and Hospital from 1999 to 2002 after she completed a year of specialty training at the university in geriatric psychiatry. She filed suit against the institute and UC's governing board in 2003, claiming that her supervisors had discriminated against her on the basis of gender when they decided not to promote her from clinical instructor to assistant clinical professor...